A Muslim man spent hours giving "free hugs" on a busy street in Manchester after the deadly explosion which killed 22 people at an Ariana Grande concert.
Baktash Noori decided to show small acts of kindness in the wake of the largest terrorist attack in the UK since 2005, to show that he and thousands of other Muslims were reeling from the atrocity.
He held a sign that read, "I'm Muslim and I trust you. Do you trust me enough for a hug?" and has spent the last few days standing alone on Market Street, wearing a blindfold, arms open.
Mr Noori, a video blogger, has filmed the experience while waiting for passersby.
Mancunians responded willingly to his appeal, having vowed after the attack not to be divided by hate.
"The first 30 seconds were nerve racking, but once I got that first hug with a lovely comment from that gentleman in my video, it made me feel a whole lot better," he told Manchester Evening News.
"With every hug, the comments I received were amazing, some were getting all teary and it's not hard to tell by a person's hug and tone of voice how much better their and my day became because of this.
"I did not expect so many people to come and hug me, let alone give me such positive comments, but it was the best thing I've ever done."
He posted his video on YouTube under the name "Life of Bako" and it has been viewed more than 33,000 times.
In the 14-minute video, after standing with his arms out and several people walking past, one man backtracked and threw himself into Mr Noori's arms.
"Good man," he told Mr Noori. "You're not alone, kid, and don't think you're outside."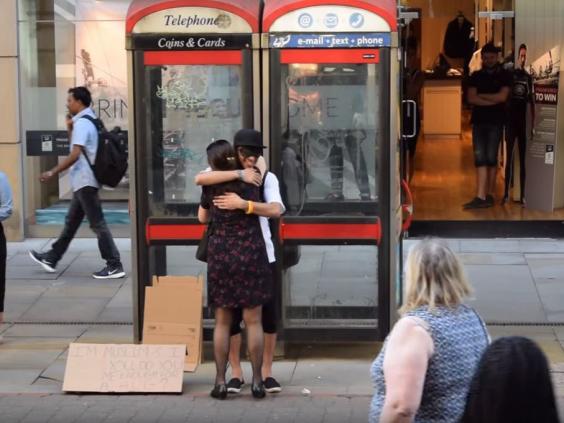 Dozens of people then approached him.
Another man told him, "We're all the same whatever we are."
Another woman spotted his sign and ran over to him, calling out, "Of course I trust you."
Mr Noori wrote: "Making this video has been a great experience, the warmth and love I felt from each hug was truly wonderful."
By the end of the day, the video showed more than a dozen people waiting for a hug, with the queue stretching down the street.
The emotional video was posted to combat anti-Muslim prejudice.
Muslim leaders raised funds, Muslim taxi drivers gave concert-goers free lifts home after the explosion and Muslim surgeons and nurses worked overtime to save the victims.
After the attack there was a spike in hate crimes, including a suspected arson attack against a mosque in Oldham.
Police have arrested 11 people aged between 18 and 44 years, including the brother of bomber Salman Abedi.
This post originally appeared on the Independent and was written by Rachel Revesz.